Frequently Asked Questions (FAQs)
We are extremely excited and can't wait to take you all on our amazing tour!! 
What precautions do you take for COVID-19?
Our comfortable Mercedes Benz Sprinter touring van can accommodate Our comfortable Mercedes Benz Sprinter touring van can accommodate up to maximum of 10. We comply with all COVID-19 safety guidelines as provided by the Office of the Chief Medical Health Officer of New Brunswick. As per our COVID operational plan, we will pre-screen all guests prior to arrival and will review updated COVID policy and protocols prior to tour departure..
What are your COVID cancellation terms?
Due to COVID-19, cancellations can be accepted up to 48 hours before your tour; however, should a change in provincial regulations necessitate a cancellation, a full refund is provided.
When do the tours operate?
We operate from early May to mid-October.
What if it rains?
Our tours are great fun with rain or sunshine! If bad weather means we are unable to get out and walk in designated areas, we will augment the tour by adding extra amazing things to do inside at our amazing destinations or simply take you dancing in the rain.
How should we dress?
We encourage guests to wear weather appropriate clothes, suited for sipping fine New Brunswick products along with comfortable shoes that do not mind taking on a bit of dirt. An all-weather jacket is a great additional piece of gear as the Maritimes is not know for predictable weather. However, we recommend you still look at the weather forecast for the day.
What are the tour times?
Tours have fixed start times of 11am. Visit our Tours page for all the information you need!
Do you allow smoking on tour?
Smoking is not permitted in the vehicle. Guests may smoke in designated smoking areas. We do request guests refrain from throwing cigarette butts on the ground in accordance with our stance on littering.
Are children allowed on tour?
As we will be travelling explicitly to taste wines, spirits, ciders, and brews, we restrict the tours to Adults Only.
Are meals included in the tour price?
Whether a stunning Tapas Style Lunch at Crooked River Farms, or an entrancing taste of the magical foods at Le Chat Bleu, lunch is included in the tour price.
NB Sight Sipping Tours
Moncton, New Brunswick, Canada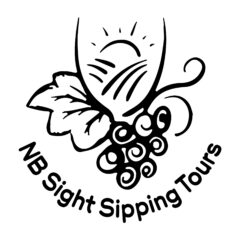 506-866-8400
Check our social media pages for our latest news!
Copyright © 2021 NB Sight Sipping Tours – All Rights Reserved.
---